A "Share page" as a content type is a page you can create to manually insert in place of a thank you page or as an option when creating conditional redirects. You can use it with or without showing Share Buttons, depending on your strategy.
If Share pages have not yet been optimised to your theme, please write an email to support@more-onion.com and we will be happy to help you out :-)
1. Creating a new Share page
When logged in to Impact Stack, at the top of your page, in the Impact Stack bar click "New" and choose "Share page" from the options on the right hand side.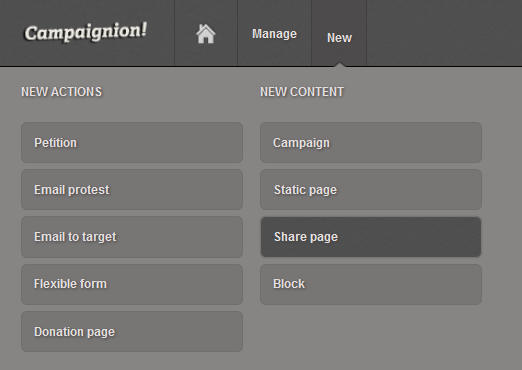 2. Add your content
As with any Impact Stack page, add your title, images and content (if you want to).
Under "SHARE OPTIONS", display the "share block" settings and define the URL you want to be shared and which share options you want to show. If you don't add a specific URL of your choice the link of the action the supporter is coming from will automatically be taken. This also means you can use one share page for multiple actions. If you do add another URL we recommend using the the node id if sharing Impact Stack pages, so you would simply add something like node/123.
You can also deactivate the "share block". Then, this page can be used as an alternative Thank You page without share buttons showing. For example, you might want to instead add a block with a donation ask. Read more on how to do this here.
3. Test, publish, launch
Don't forget to test your pages once you're done. Ideally using different devices and browsers and from the beginning to the end of that particular user flow. Make sure to test as a anonymous user too!
Happy Sharing!